Inspired by the many books, blogs, and videos we've used as a reference over the years, we are determined to pay it forward by imparting what we know. We hope to bring value to our knowledge and experiences by helping home cooks and bakers with their culinary adventures.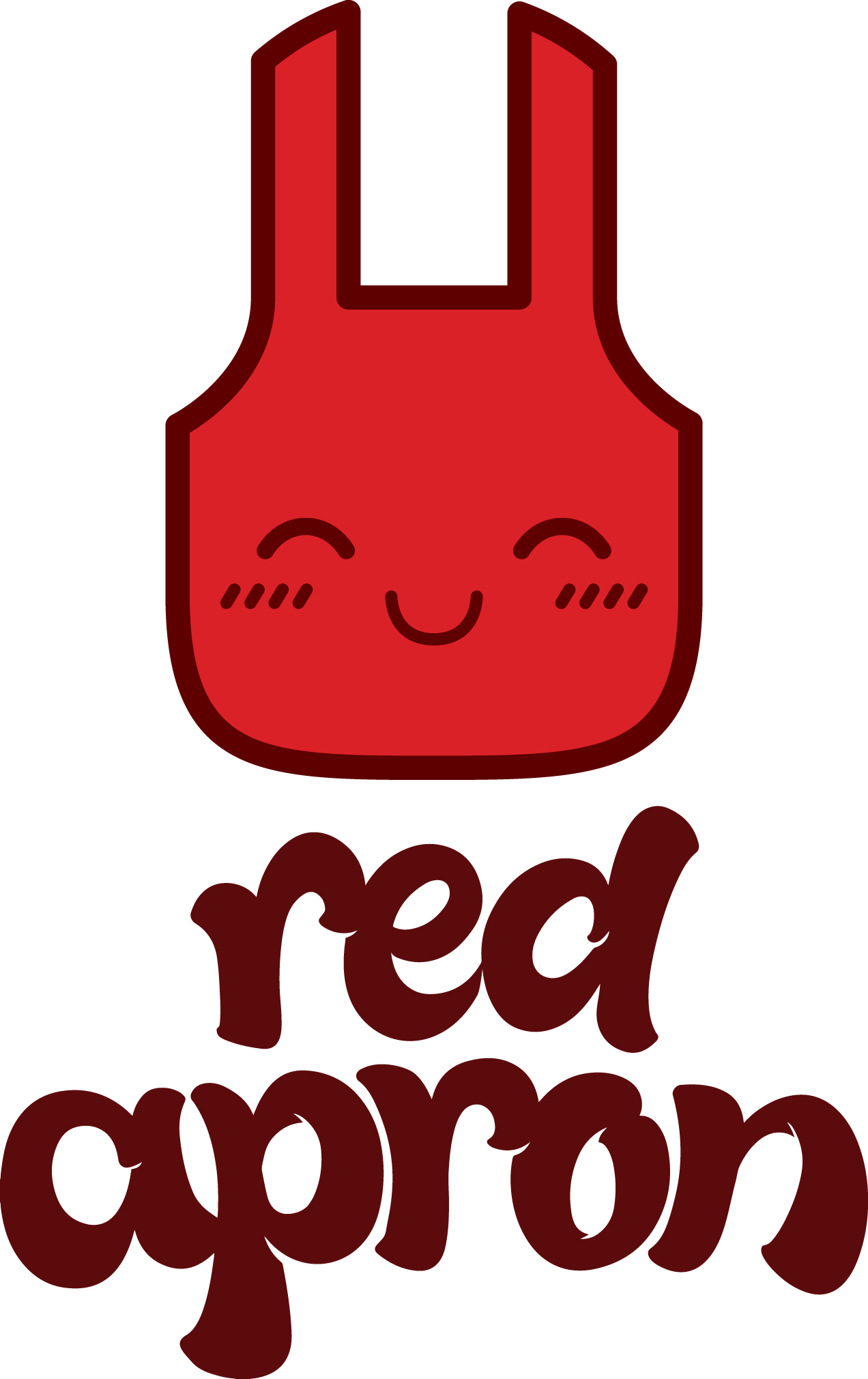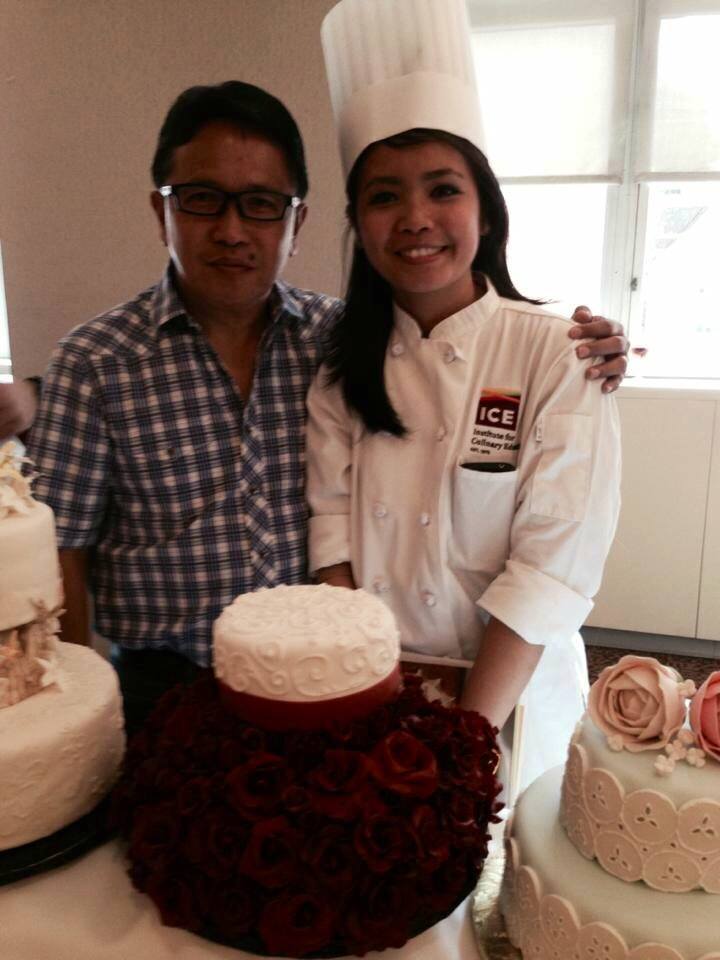 Red Apron started in the Philippines as a small cookie business. It was founded by Anjelica, who was initially a stockbroker before deciding to make a life-changing decision to study Baking and Pastry Arts in ICE – New York.
As a farewell present, her childhood friends gave her a red apron to commemorate the big step she had taken.
After graduating, Anjelica came back to her home country. She wanted to practice production in large batches so she decided to focus on one product that keeps well without refrigeration and was easy to transport. She remembered the cookies from Levain Bakery and the times she would travel from midtown Manhattan to the Upper West Side just to get a piece of a double chocolate cookie with peanut butter chips that were larger than the size of her palm.
Anjelica moved to Dubai to be with her husband, Carlo, who has been a chef in his mother's business since 2014. They decided then that they will continue on Anjelica's passion project and combine their experiences and knowledge. Carlo has a diploma in Cookery and Patisserie from the International Centre for Culinary Arts (ICCA) – Dubai. Although he specializes in meat, sauces, pasta, and salads, he's actually an all-around chef who is not afraid to try new things. Personally, he's very interested in cooking healthy and maintaining a balanced diet.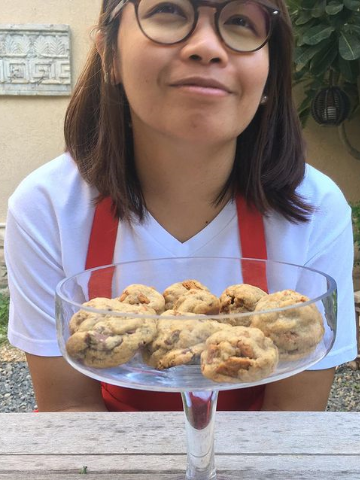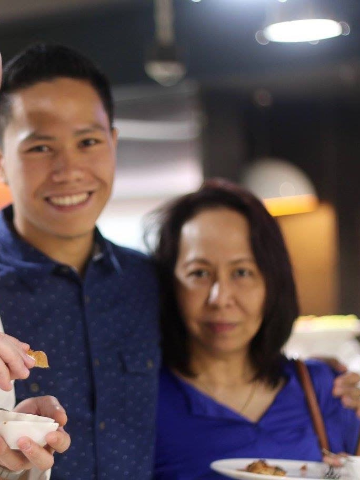 Carlo's mother, Citas, has been in Dubai's food industry for 15 years. She does not have a formal culinary education but was exposed to cooking earlier on thanks to her family. It's tempting to say that her specialty is Filipino food but after countless caterings over the years, she has proven her versatility with different cuisines. With her resourcefulness, persistence, and sharp taste, she created Cucina Cafeteria from the ground up. Cucina was one of the first few Filipino restaurants in Dubai, well known for delivering quality Filipino comfort food. A less known fact is that it pioneered saw in the city. Sadly, Cucina closed its doors in February 2020 but Citas continues to deliver unforgettable dishes and unique Filipino favorites with Red Apron.
Where are you located?
We are a small home bakery located in Barangka Drive, Mandaluyong.
Do you accept deliveries?
We only deliver within Metro Manila via Grab and/or Lalamove. Delivery fees are calculated upon checkout.
When are your products available?
We're a small home bakery currently based in Mandaluyong and have a limited production capacity. At this time, our products are only available as per order basis.
On a regular day, we require at least 1 day lead time for all orders except for the Fraisier that requires at least 3 days lead time. During holidays, we require 5 days lead time for in-house delivery or home bakery pickup.
How do I order?
You can also order by dropping a DM the following details on our Facebook or Instagram:
·       Order and Quantity:
·       Delivery Date:
·       Delivery address:
·       Receiver's Name:
·       Receiver's Mobile Number:
·       Mode of payment (GCash or BPI):
How long is the shelf-life of your products?
Since we don't use preservatives, our products have a short shelf-life. We recommend consuming our bread, cookies, bars, cakes, and other pastries immediately or within 2 days of purchase.
Our Babkas and Empanadas are best consumed upon purchase.
Our Cakes, Cookies, Bars, and Pies can be stored within 2 days of purchase.
Our Pop Ya can be stored in a cool and dry place for a month.
Got more questions? Feel free to contact us!